Regular price
$29.99 USD
Sale price
$29.99 USD
Unit price
per
Sale
Sold out
What's included?

All pages are listed in the product description below.
How Do I Get The Printable?

All products are digital so no shipping will be needed. It will be sent to the email provided at checkout.
What sizes are they?

A4 – easy to print, and can be adjusted smaller or larger depending on your needs.
View full details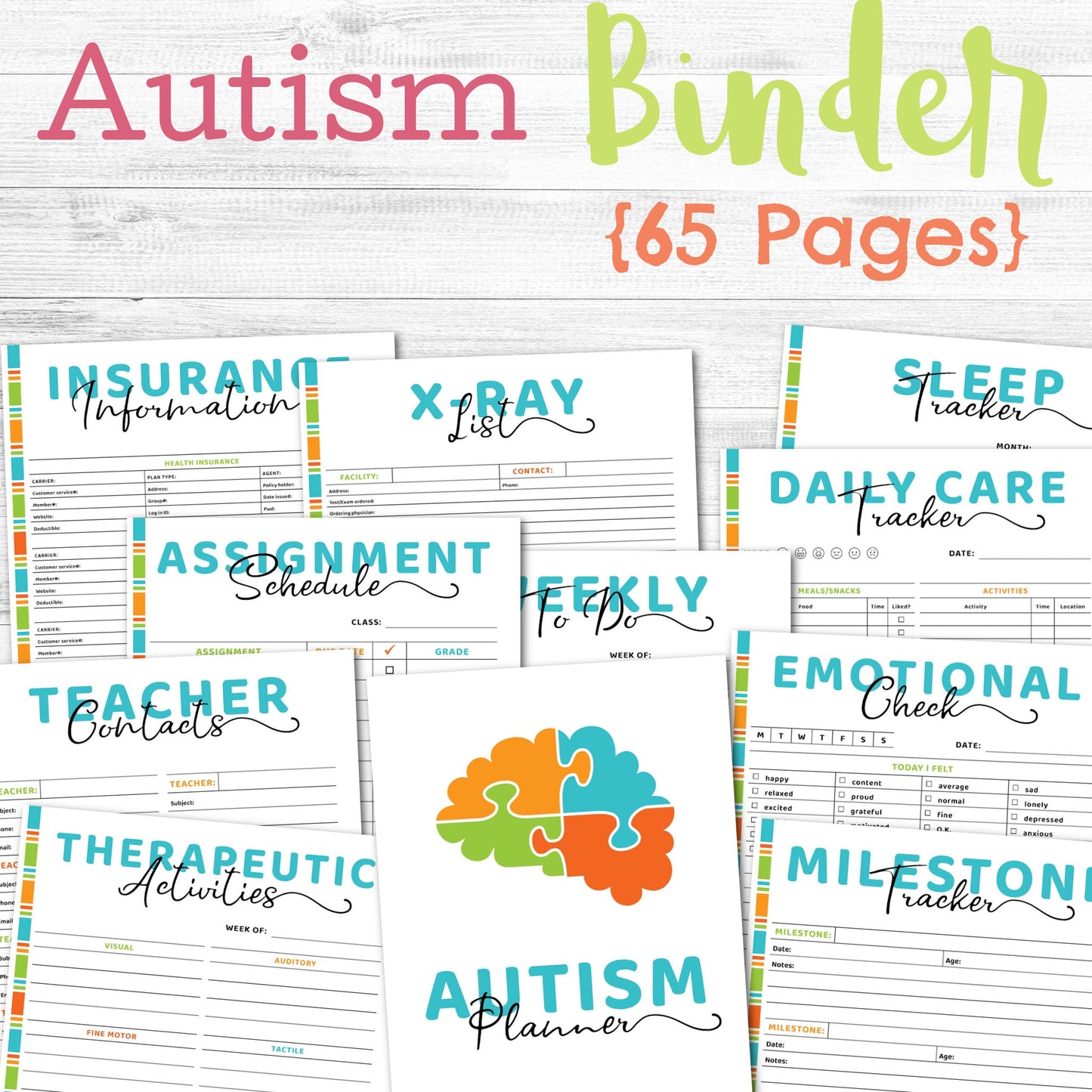 This comprehensive 65-page Autism Binder includes everything you need to stay organized when taking care of someone on the spectrum. From tracking sheets to medical contacts and meal diaries, you will finally have a simple way to keep all relevant information in a single binder and never miss an appointment ever again!
With the Autism Binder, you can regain control over your child's schedule as well as monitor his progress with ease, and make informed decisions for his health.
Why This Planner Works
Easy Organization | Writing notes on random pieces of paper will make it difficult to find what you need even if you keep them all in one place. The Autism Binder bundles practical planning sheets like the Appointment Tracker, the Daily Care Tracker, and many more for your child's health, school assignments, therapy sessions, and everything in between!

Monitor Development | Kids on the spectrum may progress slower in some areas in which case you can use our handy tracking sheets to monitor their development. Not knowing where you stand can be very frustrating so when you choose to actively monitor your child you will get a clear picture of how far you've come. It's a great way to stay motivated and be grateful for your progress.

Optimized Schedule Planning | Being actively involved in every aspect of your child's life will be much easier if you have the necessary tools to plan his school assignments, medical visits, and therapy sessions. With our planning sheets, you won't feel bad about forgetting anything and your child will definitely benefit from having a solid routine.
What's Included
There are 65 pages in this binder you can use to log, plan, and monitor everything related to your autistic child or family member, including spines for easy binder labeling!
Therapy Log
Allergies List
Prescriptions Tracker
Food Diary
Symptom Tracker
Medical Doctor List
Specialist Doctor List
Appointment Tracker
Questions For The Doctor
Surgeries & Procedures Log
Things To Remember
Vaccination Log
Insurance Information
Exercise Tracker
Sleep Tracker
Weight Tracker
Daily Care Tracker
Caregiver Checklist
Incidents Log
Eye Care Tracker
Dentists Visits
Equipment & Supplies
Weekly To Do List
Vitamin/Supplement Tracker
Notes Sheet
Monthly Goals
Yearly Goals
Habit Tracker
Urgent Care Visits
Developmental Tracker
Growth Tracker
X-Ray List
CT Scan List
Lab Work Results
Ultrasound Results
EEG Results
EKG Results
Meltdown Tracker
Other Contacts
Medical Spending Record
Therapy Goals
Milestone Tracker
Foods To Avoid
Daily Focus
Emotional Check
Productivity Check
Coping Strategies
Bowel Movement Tracker
Therapeutic Activities
Teacher Contacts
Class Schedule
Assignment Schedule
Assignment Planner
Weekly Plan
Daily Plan
Grade Tracker
Study Schedule
Daily Reflection Journal
Weekly Reflection Journal
Personal Reflection Journal
Monthly Reflection Journal
Spines
Choosing a selection results in a full page refresh.