Regular price
Sale price
$9.99 USD
Unit price
per
Sale
Sold out
What's included?

All pages are listed in the product description below.
How Do I Get The Printable?

All products are digital so no shipping will be needed. It will be sent to the email provided at checkout.
What sizes are they?

A4 – easy to print, and can be adjusted smaller or larger depending on your needs.
View full details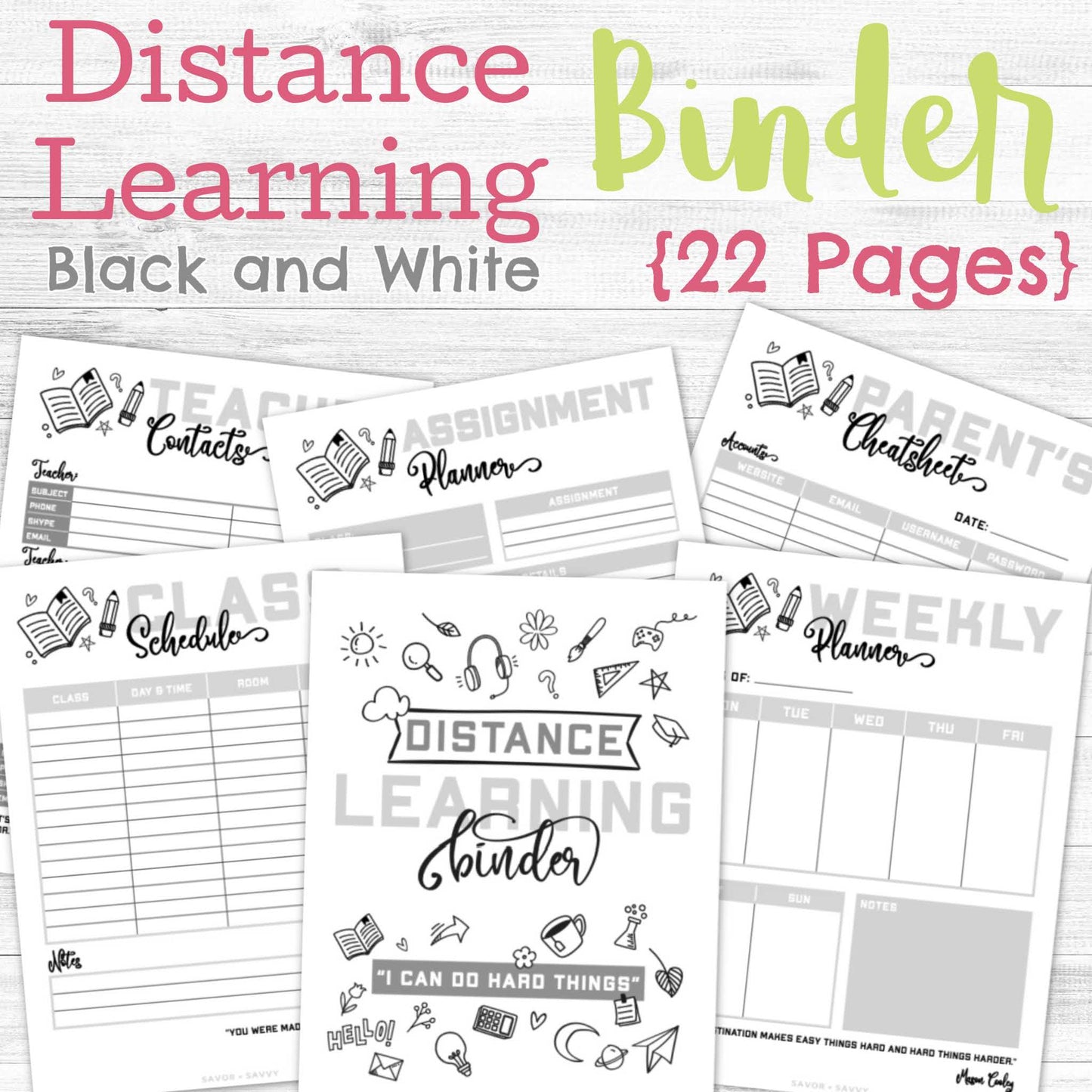 If you are new to Distance Learning or just looking for a new method of tracking this year, this 22 Page Distance Learning Binder was created for you and your students in mind. No more chaos and stress each day as you try to navigate the distance learning waters. You just need something solid to build this new journey on and the Distance Learning Binder stabilizes the crazies! 
With any new journey, it's hard to know: 
"Where do I start?" 
"Is it working?" 
"How do I keep track of it all?"
"What should I be doing while my child is going to class now?" 
It's hard, I'm not going to lie. We've done 5 years of distance learning in our house and I am the first to tell you that it's not easy but it can be done with the right tools. We've gathered 5 years of our journey and made this binder to help families steer the course. 
Distance Learning Binder differs from the School Binder as it is focusing on you, as the parent, plotting the course along with (or independently) with the brick and mortar teacher. It's a delicate balance but we've got you covered! 
Included in the Distance Learning Binder is: 
Weekly Planner - Spend a few minutes Sunday night and prep for the week so you can wake up Monday morning and know what is going to happen this week! 
School Schedule - If you are working with your home brick and mortar school, this page is going to be crucial as there are so many different emails flying around and what time kids need to hop on Canvas and such. Get it all written down so you all can see if and know what the game plan is. 
Password Tracker - There are many different sites your student is going to have to log into now and you need a "go-to" spot for all those passwords. 
Class Schedule - This is included in case your student is doing HYBRID where they are attending the brick and mortar school part time. It's going to be tough keeping track of it all but you've got it all written out here. 
Teacher Contacts - This is more important than ever. Keep in constant contact with your student's teacher in case there is something not explained-even if you were the family that "never" reached out to the teacher. This might be your year! 
Assignment Schedule - Have your student track the assignments. Go back "old school" here when we used to have assignment binders given by the teachers. It's tough for those young minds to remember everything, especially when everything is new and keep changing. 
Assignment Planner - Teachers are ready for the students to embrace the bigger assignments going forward with hybrid and distance learning. Have a game plan to show steps on how the larger assignments are going to be executed. 
Grade Tracker - It has been proven time and time again that if we write something down, it is more impactful. Have your student write down the grades so you all can track and if there is a problem with geometry, you can catch it early. 
Study Schedule - Create a time that is still set up to study for tests and extra reading and/or assignments that need to be done. Just because it's distance learning doesn't mean it's 100% done at the end of the day. 
Parent's Cheatsheet - You need to be on top of everything more than ever! Put in all the vitals here so you can also kick start your year off with a bang.
Workout Planner - This is included because with distance learning, kids tend to NOT move very much at all and extra activities will need to be incorporated into the day. Those pounds will add up quickly. 
Steps Tracker - Just like above, put on some sort of steps tracker on your student to realize how little they will move without making an extra effort. 
Start, Stop and Continue - This SSC sheet is our signature Distance Learning sheet that isn't found anywhere else. The key is for each week the student and the parent will each write down what they want to start doing, what they want to stop doing and what they want to continue doing. This 100% changed our parenting style, especially doing distance learning.  This is a great sheet to keep and revisit when you need to go "hey, I thought 3 weeks ago, we were going to stop doing xyz?" The system works, you just have to continually do it. 
Example: 
Student Start: I want to start going to bed earlier so I'm not dragging during the school day. 
Student Stop: I want to stop putting off doing my math as I'm tired later in the day. 
Student Continue: I want to continue documenting my grades as I was able to see the trend of my geometry grades slipping this chapter and I was able to circle back and fix it. 
Parent Start: I want to start setting up a designated place for you to do your schoolwork so you have a separate place to work. 
Parent Stop: I want to stop nagging so much. 
Parent Continue: I want to continue tracking your progress as well as we were able to fix one small thing in geometry that would have domino-ed if we didn't catch it. 
Vision Board - Introduce your student to a vision board and create a vision of what you want this experience to be for you and your student. This can evolve and change so don't "hit and stick" this one. 
Resources - You are going to be introduced to more resources so keep all that handy information here on this sheet. 
Doodle Pages - Doodles help get out some of that energy! 
Spines - These are for your notebooks so you are organized. 
Choosing a selection results in a full page refresh.